Scholarships
The Scholarship Program at Clovis Community College represents a strong tradition of helping students attain their educational goals. These scholarships meet the needs of our diverse student population: some are discipline specific; some reward academic excellence; they are extended to students from local high schools and those transferring to four-year universities to continue their education. Some scholarships are to support earnest students with a financial need who do not meet federal or state assistance requirements. These scholarships not only assist with, but in many cases, fully cover tuition, fees and textbooks.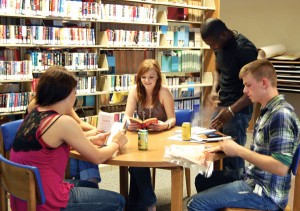 Many individuals know the difference scholarships can make. For them, continuing the tradition of giving is the best way to say thank you to those who made their own education possible. Establishing a scholarship or adding to an existing one, is an easy way to make a difference in the lives of CCC students. Unquestionably, the Foundation's generous supporters make scholarships possible, enabling a growing number of deserving students to achieve their educational goals.
The College manages over 60 endowed and annual scholarships. Scholarships include memorial and honorary funds in addition to those created by organizations and businesses. The type of scholarship and the award may vary from year to year. Scholarships can be established specific to the students they are meant to serve and provide support for students with tuition, fees, textbooks and required supplies. There are many annual scholarships currently in place for which your support can be added.
If you are interested in supporting one of these scholarships or would like information about establishing a new scholarship, please contact Natalie Daggett, Foundation Executive Director at (575) 769-4956 or natalie.daggett@clovis.edu.
CCC Allied Health Scholarship
Students seeking a degree plan through our Allied Health Program can apply for this scholarship if they meet the following criteria:
Have a FAFSA on file with the Financial Aid Office
Demonstrate a financial need as defined by the CCC Financial Aid Office
Be enrolled in at least six (6) credit hours
Have at least a 2.50 GPA (unless otherwise stated under individual eligibility requirements)
Acceptance into an Allied Health degree program at CCC (LPN, ADN, RADT)
CCC General Scholarship
Our general scholarship is available to the widest selection of applicants, including new freshmen, returning students, full time students, and students enrolled in half-time or less.
CCC Recent High School Graduate Scholarship
This scholarship is exclusive to students who have just graduated from high school and are enrolling in a degree program at Clovis Community College.
Applying for CCC Scholarships
Apply for dozens of CCC Scholarship online today with one simple form at https://clovis.academicworks.com/.
Please Note: New Students and/or High School Seniors: You must fill out an admission application prior to applying for scholarships. To apply in person or by mail, please download the Admissions Application or visit Admissions for more information.
For more information or if any questions on applying for a scholarship, please contact the CCC Financial Aid Office.