Develop your academic skills and improve your performance
Meet one-on-one with a trained Academic Coach to improve your performance in college. The topics we'll cover together include: goal setting, time management, stress management, study skills, discovering your strengths, and connecting you to additional resources. All modules are tailored to your individual goals and needs.
What should I expect to gain from meeting with an academic coach?
By meeting with an Academic Coach you will have someone dedicated to helping you achieve your goals, develop as a student, and solve problems as they arise. You will learn about resources around campus and receive assistance in using them. Your Academic Coach will keep you accountable by supporting and reminding you of the topics covered in development meetings. By the end of the term you will feel more self-confident in your abilities and in the knowledge of the resources available to you at CCC.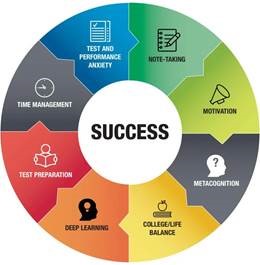 Academic coaching is NOT Advising, Counseling, or Mentoring.
Academic Coaching is NOT Tutoring
During your academic coaching meetings, you will further develop skills to succeed in your academic career. However, academic coaching does not provide course-specific assistance. Your academic coach will provide resources and referrals to support services available on campus.
---
Academic Coaching is NOT Counseling
The goal of an academic coach is to help you achieve your goals giving you guidance and instructions. On the other hand, a counselor helps people address and resolve problems that make them feel bad emotionally, or are impairing their ability to function well
See an Academic Coach to find out more about
Staying organized
Balancing commitments
Forming productive study habits
Using your strengths
Having accountability
Understanding your learning style
Knowing who to contact to connect with campus resources
See a Counselor to assist you with:
Healing from pain and emotional trauma
Conflict resolution with self or others
Resolving difficulties from the past
Addiction
Abuse
Depression
To improve overall psychological functioning